lunatrigger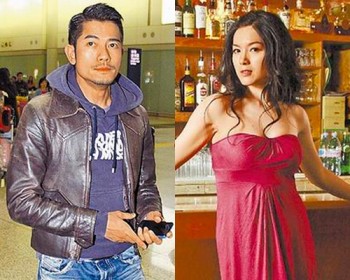 The surprising news that Aaron Kwok (郭富城) and Lynn Xiong (熊黛林) broke up (for real this time!) has upset more people than just the doomed couple.
"Heavenly King" Aaron's manager Siu Mei (小美) reportedly popped champagne to celebrate their breakup as she was said to have never liked her artiste's model lover Lynn.
Lynn's fans' vented their anger at Siu Mei, swearing at her and even her parents on the Internet, prompting the furious Siu Mei to counterattack, saying "Like artiste, like fans," implying that it is no surprise Lynn would have this type of distasteful fans.
She was not the only one who is pissed off.
Actress Christine Kuo (苟芸慧), winner of Miss Chinese International Pageant 2009, has been singled out as the third party who led to the end of the 7-year Aaron-Lynn relationship.
Although Christine has reiterated her innocence and even tearfully denied rumors at a recent occasion, Lynn's loyal fans angrily point fingers at her, criticizing her for being "disgusting."
Lynn confirmed she is single when attending a commercial event last week.
It was said she and Aaron have planned to get married in October, but Lynn decided to let go after rumors of Aaron and Christine secretly seeing each other were spread and Aaron regretted the marriage decision as he is not psychologically prepared.
via MayDaiy
.
Drama :o